This is a public service announcement to anyone living in, or traveling through the Burbank, CA area that is interested in used console games. I live out in the sticks of NE Nevada, where there's not a whole lot going on games-wise, but I make it into Burbank every couple of months for business. Game Dude is a store that sells boatloads of used (and new) video games. It's a rather large store though, so there's more than you'd normally find in a typical used game store.
I realize that you can get good deals on eBay for used games (and I frequently do), but there's something extra-cool about standing in a store this large that specializes in video games.
So I would be remiss to not share said location with my fellow gaming geeks and geekettes. Here's the rack near the front door that has all the price lists: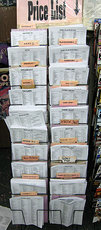 There are lists for new and used Nintendo 64, Playstation 1, 2 and 3, Xbox and Xbox 360, Dreamcast, Gamecube, Saturn, Neo Geo, Game Gear, Wii, Nintendo DS, Sony PSP, Super Nintendo, Game Boy, and Game Boy Advance. Plus they've got used DVD's. Here's just one of the aisles: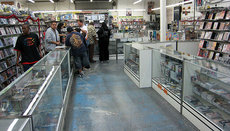 And here's the Xbox section: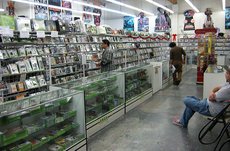 Anyway, if you're a game freak and you like checking out used games, check this place out. I was there a few weeks back, and picked up Bully and Disgaea for PS2, and Exit and Crush for PSP. I just got a Nintendo DS for Christmas, so next time I go I'll be looking for some DS games too. The best part is that when you check out, they open each case to make sure the game is actually in it, and they show you the underside of the CD so you can see the quality of the disk surface. Most excellent.
Check out their site here.
Tags:
Games