So my daughter is a Halloween freak, and also happens to be about 8 1/2 months pregnant. She decided that I should paint her belly to look like a pumpkin, so she could lay in some leaves and we could take "pumpkin" pictures. Go figure.
So the family headed out for what is probably our last picnic for the season…once the snow starts, you can't get up into Lamoille Canyon without snowmobiles.
Click the image below for pics…(then hover your cursor over the right side of the pic to advance.)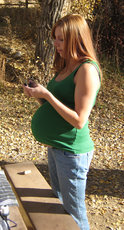 We used acrylic paint, which I heard peels off pretty easily afterward. So there you have it!

Tags:
Life